Discover
Time to turn the pages of Your Universal Passport to Blockchain
and discover where you will go with Nervos.
Too many times we are told it's not possible with blockchain — yet.
Nervos is here to change that. Discover the full potential of this
ecosystem with a passport to every corner of the blockchain universe.


The current Blockchain potential isn't matching mine, can we fix this?
I could use a token with a purpose and potential.
Give me some $CKB
Let's go on a blockchain journey. Where's my Universal Passport?
Frequently asked questions
Introduction

Developer

Community

Team

Token

Progress
We are your Universal Passport to the Blockchain.
Put simply, we are an
open source
project, collection of protocols, and public blockchain ecosystem intent on solving your biggest blockchain gripes. The Common Knowledge Base is a Layer 1, Proof of Work and Store of Value blockchain but with Layer 2 scaling and smart contract capabilities. This melding of two key blockchain traits speaks to our core goal to be your Universal Passport to the Blockchain.
Why Nervos? We have no competitors. The interoperability conudrum has left blockchain in a siloed and isolated state. We aim to correct this by being Your Universal Passport to blockchain. The Nervos Network will be the answer to universal applications by acting as the foundational layer to the blockchain, enabling builders and users full movement through the ecosystem as Layer Zero.
Rather ask: 'What can't be built on Nervos?' The Nervos Network welcomes innovation and creativity and empowers the next generation of applications through powerful and pliable interoperability. Developer flexibility is a primary focus as we want you to create the next great digital masterpiece with us, and we want your invention to travel around the entire blockchain ecosystem in one simple step.
Your gateway to the Nervos Network starts here
We have set up a number of paths for you to begin your journey with us.
Get a Grant:
Be a part of our successful grants program that has already launched several promising projects. Take a look
here.
Get some support:
CKLabs, our incubator program, will provide you with the tools, support and funding needed to be a part of the next evolution of the Nervos Network. More on that
here.
Get stuck in:
Join some of our developer events; a hackathon, a webinar or workshop. The newsletter will keep you informed on upcoming events. Sign up
here.
Get informed:
Our documents will let you take a real deep dive into Nervos. Take a look
here.
There are also videos and a developer tutorial page, and a Dev community ready to answer your questions on
Discord
and
Telegram.
Begin building, start chatting, or keep in touch
From our Grants program and CKLabs incubator, down to our Telegram and Discord, there is a place for you to join our community. Want to be kept updated weekly? Sign up to our mailing list
here.
Would love to have us on your radar? Here's our
Twitter page.
Got a question or two? Jump onto
Telegram
and ask away. Want to join in the conversation?
Discord
is the answer.
Build. Discuss. Trailblaze
The Nervos Network will be a collection of builders and users, but we also want miners and Trailblazers. You can learn more about mining $CKB
here
with this useful tutorial. You can also sign up to our Nervos TrailBlazer program to work towards building the Nervos community in your area. Read more about that
here.
We are a diverse and global team with a strong mission. The Nervos Network is being built by a team of with deep roots in the crypto space. We have builders of Ethereum clients (ruby-ethereum and pyethereum); creators of imToken and Spark Pool and a leading blockchain engineering team — Cryptape. The Nervos Foundation is a team that spans the entire globe with around 95 team members. We are creating a Network that will encompass the globe and be accessible to all.
Kevin, Terry and Daniel — The Nervos co-founders These three guys have been deeply rooted in the cryptocurrency space since it really started taking off. They have seen the changes come in, and know the changes that still need to happen. Terry was a developer at Yunbi & Peatio cryptocurrency exchange as well as the co-founder of Teahour.fm, one of China's most popular tech podcasts. Now he is Nervos' Jack-of-all-trades Kevin previously worked on enterprise data solutions at IBM Silicon Valley Lab. Now he is in charge of the Token Economics Daniel was the CTO of imToken, the world's most popular Ethereum wallet, as well as the former CTO of Yunbi and co-founder of ruby-china.org. Now he works on building ourcommunity
Every good blockchain project needs a good token. The CKB Token ($CKB) is the native token of the Nervos Blockchain. This token is important because it wears many different hats. $CKB is a minable, proof-of-work token that can be likened to Bitcoin in its store of value functions. However, it has a touch of Ether to it when used in executing smart contracts.
$CKB can do it all, and more. $CKB can be used to store your assets, it can execute your smart contracts, or even be used to rent out your space on the Nervos cell model blockchain. $CKB's unique crypto-economic design has allowed it to branch out of the usual siloed functionality of other cryptocurrencies. It is an ideal use case for store of value and it can also be a value token behind smart contracts.
A year like no other, but a good one for Nervos. We opened Your Universal Passport the Blockchain. We showed you a community-built Dex and welcomed stablecoins. COFFEE token showed off our SUDT (Simple User Defined Tokens), and NFTs on Nervos have also kicked off well. For you developers, there has been a flurry of tools including Godwoken, Polyjuice, Lumos and Capsule.
We're looking to expand our big picture goals in 2021. The Universal Passport to the Blockchain will take you further in 2021 as we aim to make interoperability more standardized and user friendly as we cut out the current cross-chain issues and eliminate the barriers to entry for users. Additionally, the ever-changing waves of the blockchain space will always be considered as we polish our DeFi solutions, NFTs, SUDTs, Stablecoins, and more.
Technology
Now is a good time to dive into the more technical stuff.
Click through to our Documentation site, our Github and RFCs.
What have we been up to?
Quarterly Update Q4 2020
Q4 2020 marked the end of a huge year for the Nervos Network as
we took the foundations laid in 2019 and grew them across the board.
During the last quarter, we made some significant strides in
infrastructure development and Interoperability 2.0,
or as we call it: The Universal Passport to Blockchain.
Download Newsletter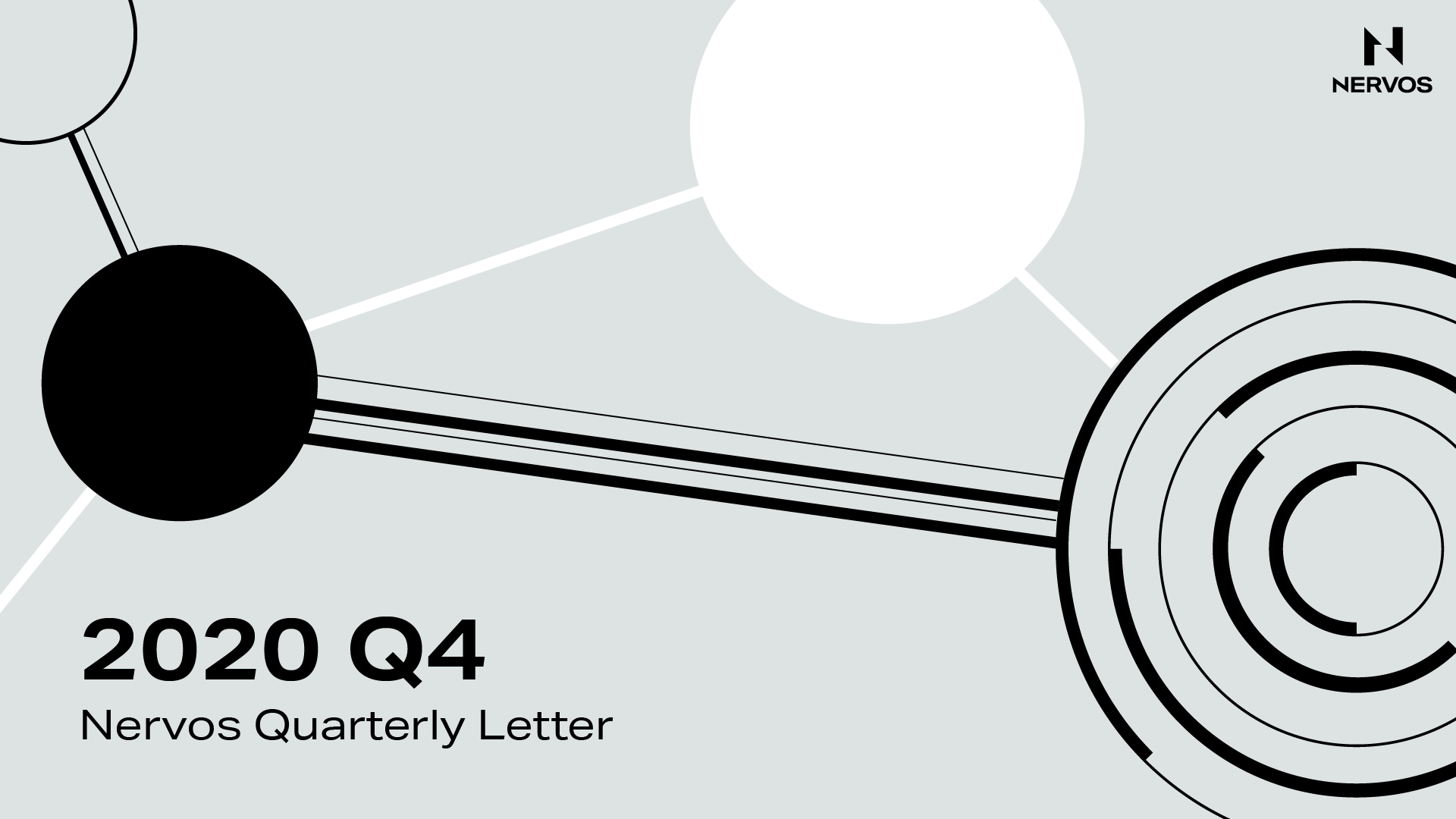 Other Resources
There will always be more for you to learn about Nervos, and we have the resources you need.
The Nervos Network Positioning Paper
Crypto-Economics of the Nervos Common Knowledge Base
Nervos CKB: A Common Knowledge Base for Crypto-Economy